The first check… which I probably won't cash
Got this check a few days ago in the mail. Sevent cents.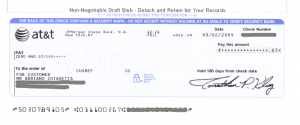 Turns out my old AT&T Residential account was carrying a bit of a credit balance, and AT&T decided to clear that out.
Amazing they went all the way sending a check… for $0.07 — and paid $0.43 for the stamp.
I think I'll skip going to the bank cashing this check — althoguh kudos to AT&T as they pay off customers' credit balances down to the last cent! 🙂