My favorite Firefox extensions grouped in an handy collection
Firefox collections are an easy way to keep up to date with add-on sets created by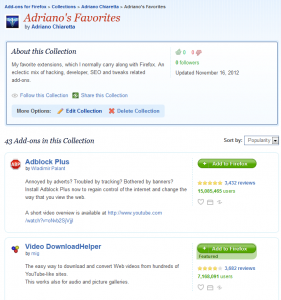 other users. And if you wish to have a glance at the add-ons I currently carry along with Firefox you can head over to:
https://addons.mozilla.org/en-US/firefox/collections/adri72/my-favorites/
which I plan to update any time I remove or add a new add-on to my Firefox installation.
The collection is a mix of add-ons related to hacking, web development, SEO, and general ui or usability tweaks.
Am I missing out on some other great add-on? Share your thoughts in the comments!