Fully backup your IMAP mailbox with IMAPSize
If you use IMAP as storage method for your email account(s) — that is, you leave all the messages on the mail server — along with enjoying being able to get to all your email from anywhere you might also be concerned by the "what if something happens to my email provider / server / storage / etc.?" sort of doubt.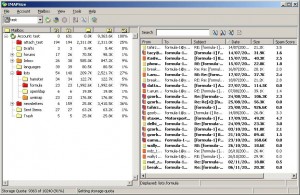 IMAPSize takes care of this source of concern by providing an easy way to backup the complete mailbox.
This is a great little tool with an impressive feature set, and allows for pretty much any sort of manipulation on the remote mailbox and related files, including attachment stripping, in case you have storage quota restrictions.
Backups are stored in the simplest and most straightforward way, i.e. directly accessible folders matching your mailbox folders structure, and related messages.
Messages are saved in .eml format, ready to be viewed through Oultook Express or Thunderbird. Oh, and works with Gmail IMAP (including the Google Apps flavor).