4GB on a Mac Mini? Better than expected outcome
Recently got myself a mac mini, with 1 GB of RAM — figured to save $100 on the 2GB apple option, and instead go for 4GB at $60.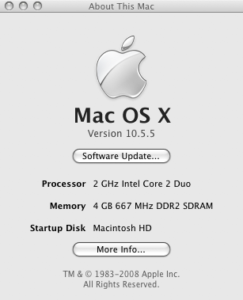 I know seems nonsense how come one additional gig is $100, and 4 gigs are $60? Well that's the strange math of the DIY world.
4 gigs GSkill memory for notebooks over at newegg for a little over $50 as of this writing. Retail package btw.
Despite reading around various blogs / howtos I had the impression the mac mini was only going to "see" a little over 3 gigs, I was plesantly surprised when the system info tool showed the whole 4 available to the operating system.
Replacing anything in a mac mini is not exactly a walk in the park. Mostly because of the really tight spaces you'll find yourself having to deal with. But with a bit of carefulness and patience, things came apart easily, and just as easily got back together without scratches or marks on the outer casing.
Now this little toy totally flies — I can see why they often say a tweaked up mac mini can get pretty close performance-wise to entry level mac pros, at a fraction of the price.