forgetting the start menu with launchy
Just a quick blurb here about a little tool that recently entered my "never leave home without" folder: Launchy — a free, "lookup" sort of application which will index any directory of choice (by default the start menu one) and bring up a list of matching keywords as you go typing the name of the application you want to launch.

Additionally, it also supports passing command line parameters to executables, as well as customizing search strings handed over to any url.
Download, unzip, launch, double check the folders set to be indexed, assign your favorite key combo (mine's ALT + L) to bring up the lookup window, and you're good to go.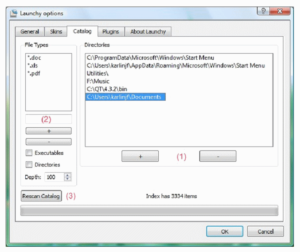 From then on, no more start -> fiddling around to find what you're trying to reach -> enter program folder -> some more fiddling around -> finally start the app.
Launchy is actually rather smart and as you go, it starts keeping a list of your most frequently invoked apps which will present topmost in its results,  as long as of course they are relevant to the text typed in so far.
More info, download, documentation, etc. at www.launchy.net
Oh and did I mention it's free?
Though a little donation to the developer is almost a must given the time it will save you in a day / week / month usage.